"I recently bought a property that was filled with junk when I inspected it, both inside and outside the premises. I was told by my real estate agent that the seller was going to remove all the junk and trash prior to closing because they were legally obligated to. The property is now in my name and the trash was not removed. Was my agent lying?"
This comment is one of the many found on real estate message boards. Whether a home is being prepped to sell or the contract is signed, leaving behind the seller's trash reflects poorly on the real estate agent and the company they represent. This, among other reasons, reflects the need for real estate agents to contract with a professional junk removal service.
Reasons for Contracting a Professional Junk Hauling Company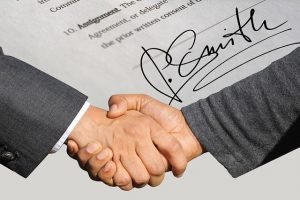 Real estate agents want to sell homes quickly at the price the home owner sets. That is their number one priority. But, in order to achieve this, realtors need the help of a professional (and reliable) junk removal service.
This is because of the following reasons:
On average, a homeowner will sell their home roughly six years after moving in. During that time, the homeowner has accumulated a vast amount of "stuff." Recommending a junk removal service to help the seller declutter will help real estate agent sell the property faster when they start marketing.

Previous homeowners sometimes leave items and debris behind after they have moved out. Since a good chunk of a realtors' business comes from word of mouth, it's in their best interest to hire a junk removal service to clean up and haul away the junk before the buyer moves in.

Since rental properties have a faster market turn around, it's critical to keep these properties uncluttered and clean to reduce the vacancy period. Sometimes this means the realtor has to deal with a property filled with abandoned goods and waste. During times like these, it's important to have a professional junk removal service you can rely on.

Timing is critical in real estate. Having a junk hauling company real estate agents can outsource to is vital when it comes to foreclosed properties, REO, short sale, and even their own reputations.
The Benefits of Using a Junk Removal Service
This relationship helps clients and the sales process in the following ways:
Quick Response Time:

A professional junk removal company often offers same or next day service. The faster a property is clean, the quicker it will sell.

Exterior and Interior Clean Out:

The exterior of a home is a potential buyer's first impression. Junk removal companies like Junk360 will remove broken sheds, broken playsets, and even rusting motor vehicles from the yard before tackling the interior.

Careful and Experienced Service:

When decluttering a home that's on the market or sold, the last thing you want to do is scratch the floors or knock a chunk out of the wall. Professional junk removal companies will leave the property in better shape than they found it.
All this and more is why real estate agents need the help of a professional junk removal service to sell homes!
What to Look For in a Junk Removal Service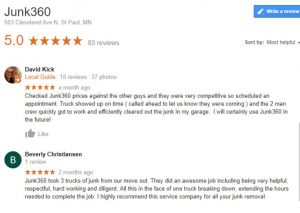 Once real estate agents have made the decision to partner with a professional junk removal services, it's important to know what to look for. While there are plenty of individuals and companies willing to haul junk, determining which organization is right for them is a big step.
As realtors research their options, keep in mind some "must haves":
Dependability:

Does the junk removal company arrive at the agreed upon time?

Professionalism:

Does the company's staff interact politely with clients?

Transparency:

Do they offer a free estimate and are they up front with their pricing?

Readiness:

Are they willing to haul away both large and small truckloads of junk, debris, and waste?
A "yes!" to all of those items are what real estate agents should want in a junk hauling organization. Only then can they have the peace of mind when recommending them to their clients.
Junk360 Can Help You Sell That Home!
With Junk360 you can count on the best service in the Twin Cities! Our 5-star rating shows that our customers agree that we are the best at what we do. When using our junk removal services, you see our professionalism and efficiency on display.
Our
upfront prices
emphasize transparency and competitiveness. As an environmentally conscious business, it is our promise that nothing ends up in a landfill that doesn't absolutely belong there.
If you're a real estate agent looking to outsource junk removal, contact our friendly team today at 651-395-8659.
Remember: the realtor looks good when the property is clean and the client is happy!