A veteran-founded organization, Junk 360 prides itself as a reputable and reliable junk removal organization. We specialize in:
Fast removal

Proper disposal
Recycling
Professional clean up
However, there are three major areas in which Junk360 out works the competition. Here's what sets our organization apart from all others.
Pricing
Our pricing is simple and easy for the customer to understand. Unlike other junk removal companies that set their prices based on weight of the items or by the hour, we charge by the amount of truck spaced used. For example:
A load of ⅛ of truck space, equal to about 1 couch and a small cabinet, runs $134.

Hauling away junk that takes up ½ of truck space, about 9 cubic yards and the equivalent of 4 couches and a stove, costs $399.

A full load, which is the entire 18 cubic yards of our truck, is $579. This space can hold about 9 couches and 1 stove.
At Junk360, we believe in fair and transparent pricing. Before you contract our services, we always provide a
free estimate
with no obligations attached.
Our estimates include the cost of the sorting process, loading, all fees (recycling, dumping, ect), and clean up. To see our complete pricing breakdown,
view our pricing chart
.
360 Degrees of Service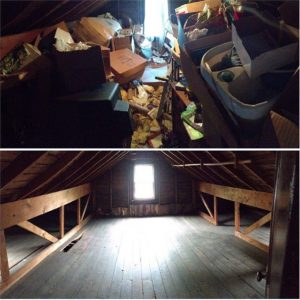 When customers call to ask us what junk we remove, the easier response is: "it's easier to tell you what we don't take." This list only contains three items:
Hazardous materials

Paints, solvents, and oils

Batteries
The reason for a list this small is this:  Junk360 does not believe in running away from any type of debris - no matter the shape or size it comes in. We will work with our customers to make sure their junk is not only removed, but disposed of properly.
At Junk360, we don't just bring items to the dump. First we:
Sort items to see what can be donated or recycled

Bring donations to the proper facilities

Recycle all materials that qualify
All of this is done with every truck load, at no extra cost to the customer.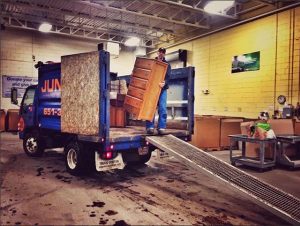 Additionally, Junk360 provides both public and commercial services. We come to:
Private residences

Estate sells

Foreclosures

Retail businesses

Warehouses

Commercial properties

And much more!
Once we've loaded everything into our truck, we'll clean up the site so you don't have too! See a list of every item we'll haul away quickly and efficiently by visiting our
services and cleanout page
.
Five-Star Team
At Junk360, we provide five-star customer service 100% of the time. That's because we want every customer, new and returning, to have the type of experience that sets us apart from our competition. We have three points of contact with our customers, from job start to completion. This includes:
Website:

When you visit our website, you'll find all the information you need in a simple format that is upfront and easy-to-navigate.

Over the phone communication:

As you place your phone call to Junk360, you'll be greeted by a human being. Whether you're just looking for an estimate or trying to schedule a pick-up, our team is polite, courteous, and will work around your schedule.

In-person treatment:

From the moment our truck pulls in, you, your belongings, and your property will be treated with absolute respect. Not only will we take care of the lifting and loading, we'll treat your home like our own - leaving the property spotless when our truck pulls away.
Saying our customer service is amazing is one thing. Having our customers say it themselves is another. Here are just of a few of the five-star reviews Junk360 consistently earns.
Contact Junk360 Today!
Want a junk removal service that stands above the rest? Contact Junk360 today! We'll provide you with
a free estimate
using our transparent
pricing chart
, and schedule a time to provide our services that fits with your schedule.
Call us today at
(651) 395-8659. We're ready to make you our next five-star review!