It's 2019, and your New Year's Resolution is to finally declutter all the junk in your home. You've gone through the process of organizing your old clothes, tools, furniture, toys, and appliances. Now you have a pile of unwanted items - some of which can be donated… some of which cannot.
So what does a homeowner do with all that junk? Dealing with junk takes time, energy, and effort, but here are 3 way you should NEVER dispose of your waste.
1. Never Burn Junk
It's one thing to burn old tax returns, pay stubs, and bills. It's another thing to burn synthetic materials such as rubber and plastics.
Burning waste to dispose of your junk is never a good idea. Not only does it release harmful toxins and chemicals into the air, but it also:
Creates a fire hazard:

Even if your fire is safely contained, wayward cinders blow by wind can start an uncontrolled fired nearby. Burning junk could inadvertently cause a fire that could damage nearby homes, businesses, and property.

Poses a health hazard:

Fire only burns junk at about 660 degrees Fahrenheit. This low burn causes the emission of harmful chemicals such as dioxin, furan, nitrogen, and carbon dioxide. These chemicals can pose severe health hazards to anyone who breathes them in.

Harm your family:

The chemicals emitted by burning junk can cause headaches, skin problems, damage to the liver as well reproductive and immune system, and mental health issues.
The bottom line is that several waste items are dangerous to burn. Doing so can not only damage the environment but those around you.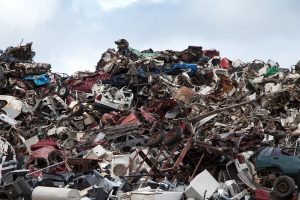 2. Never Dump Junk
Whether it's in a corner, alley, or landfill, you should never dispose of your junk by dumping it. Open dumping of junk causes the leakage and potential infestation of the following:
Birds

Pests

Toxic substances

Dangerous microorganisms
Even dumping your junk legally can cause environmental dangers. When items that can be reused and recycled get dumped into landfills, they can:
Add mass to a growing dump

Leak chemicals and other toxins into the earth

Fail to biodegrade properly
This is especially important when considering larger items such as appliances, electronics, and furniture that could be repurposed to others in need. Dumping your junk without considering proper recycling and disposal practices contributes to overflowing landfills and environmental harm.
3. Never Leave Junk on the Street
Leaving unwanted waste on the street, such as appliances and furniture, is known as illegal dumping. Illegal dumping is a rapidly growing challenge for city sidewalks.
Leaving junk on the street causes the following issues for your city:
Creates unsightly neighborhoods

Leads to an increase in litter and dumping

Attracts vandalism, such as graffiti

Presents safety hazards to pedestrians

Wastes community resources

Increases costs to the taxpayer

Attracts mold, bacteria, and vermin
While street dumping is often done with good intentions, the execution is lacking. Especially since most people are willing to pick old items on the curb due to a number of sanitary concerns.
A Quick, Convenient Way to Get Rid of Old Junk
All that junk from 2018 got you down in the dumps? Never fear! Junk360 is here to offer you a quick, convenient, easy, and affordable way to dispose of your old junk properly! Junk360 is a reliable, 5-star junk removal service that will not only dispose of your waste properly, but we'll also ensure that everything item that can be reused doesn't end up in a landfill.
If you're feeling overwhelmed with junk, contact Junk360 today at 651-395-3659 or r
equest a free quote online
. We can't wait to help start 2019 off on the right foot!