Why should your home get all the attention? Offices need decluttering too! An annual refresh of the workplace is a great way to increase productivity, contribute to a safer office environment, and improve morale.
Junk360 is here to help you dust off your desk and prioritize decluttering your office space, giving new ideas some room to grow!
Get Strategic With Your Office Declutter
A decluttered, clean, and organized workspace boosts morale and increases productivity. Here are some steps you can take towards dedicating time to an office-wide declutter:
Schedule It: Getting an office declutter on the company calendar makes it official. Now everyone has a definite timeline for decluttering their spaces and communal space.
Make Lists: Identify projects to prioritize. Want to replace desks? Remodel the reception areas? Replace the furniture in the staff lounge? Listing these projects keeps your decluttering process from feeling overwhelming and protects you from taking on too much at once.
Examine Your Tech: How many old computer modems and dusty screens are cluttering up your storage space? Take an inventory of all your office technology, such as laptops, copiers, fax machines, computers, and cameras. You might be surprised by how much of that you can declutter.
Taking the time to declutter and organize the office allows you to dispose of unneeded and unwanted materials. This strategic approach will open the door for a cleaner, safer workplace year round!
How to Waste, Recycle and Donate During an Office Declutter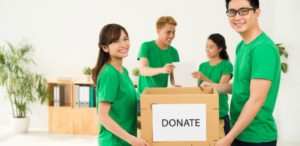 As you declutter and sort through all your office equipment, it's important to determine what items are reusable, which are recyclable, and what needs to be tossed. Throughout the decluttering process, ask questions like:
What will you keep?

What needs replacing?

What's limiting your office productivity and space?
With those questions in mind, keep an eye out for office items that do not have a place, use, or purpose. Set aside all the materials you want to:
If an item falls into one of these categories, it is clutter and it needs to go. This is especially true for items that your staff hasn't used, or even touched, in the past year.
When to Outsource Your Office Declutter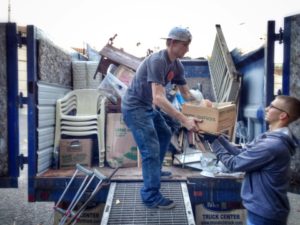 While scheduling an office declutter is a priority, hauling away unwanted materials is not in your job description. When it comes time to haul away the old to make space for the new, it's time to outsource.
In fact, there are major disadvantages to dealing with your office recyclables and waste on your own. These include:
Additional time your employees would have to take away from their other duties

Risk of potential injuries to your staff

Cost of renting or borrowing a truck

Multiple trips to recycling, donation, and waste centers

Having to properly recycle electronic waste
At the end of the day, it's not worth the time or energy to haul away your office clutter. Instead, contact a professional junk removal service, like Junk360!
Call Junk360 for an Eco-Friendly Junk Removal Service
Junk360 is here to help you declutter and organize your office! Our professional, five-star team will go above and beyond to ensure that all usable office materials are donated, reused, recycled, or repurposed.
Call us today at (651) 395-8659 or request
a free estimate
online. We'll provide safe, efficient, and eco-friendly junk removal services for your office declutter, so your team can prioritize working on new ideas in their fleshly organized space.