Is it time to buy a new couch? Are you wondering what to do with your old mattress? The sheer size of these household objects, not to mention the weight, can make them difficult for you to move, even if you have help. 
The good news is, there's an easy way to get rid of your old couches and mattresses (that doesn't involve abandoning it in an alleyway)!
Getting Rid of an Old Mattress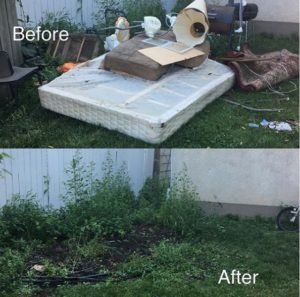 Buying a mattress online is easy! The hard part is finding someone who can take the old mattress away. We've all seen old mattress dumped in an ally or on a curb, but there are several ways to toss your old mattress responsibly.
These include:
Recycle:

Did you know that you can recycle your old mattress for free? Several recycling companies repurpose several parts of an old mattress including springs, foam, and cotton. The only issue? Most companies either ask you to deliver the mattress or break it down yourself. 

Donate:

If your old mattress is still usable, you can donate it! Companies like the Salvation Army will even come to your home and pick up your old mattress for free! They do ask that the mattress is still in good condition. This means no tears, sags, rips, lumps.

Junk Removal:

Sometimes the best thing to do with an old mattress is throw it away. You can do so yourself, but make sure to check your city's mattress disposal regulations and be prepared to pay a disposal fee. Contacting a junk removal service, like Junk360, can actually save you money (not to mention time and energy).
Junk360 makes responsible mattress removal and disposal our top priority! We haul away all different types of mattresses including:
Futons

Box springs

Platform beds

Adjustable mattresses

Old cushions

Foam mattresses

Memory foam

Water or air beds

And much more!
Plus, Junk360 recycles and donates all material possible!
Easy Couch Removal

Whether you're moving, decluttering, or getting new furniture, disposing of old couches can be just as difficult (if not more so) than getting rid of old mattresses. 
Here are three options for an easy couch removal:
Sell:

There are always people looking to cheaply furnish their homes. If your couch is still usable, consider posting an ad on Craigslist or Facebook. Offer a low price with the stipulation that the buyers comes and picks it up themselves! Just be prepared to deal with some haggling and last-minute no-shows. 

Donate:

Another option for usable couches is to donate them to others in need. Do you know a neighbor who could use a used couch? Also consider local community centers, homeless shelters, assisted living facilities, or even drama departments. Several charities will even come pick up the used couch themselves!

Haul It Away:

Don't want to deal with the hassle of finding your old couch a new home? Hire a professional junk removal service to haul it away. Companies like Junk360 will do all the heavy lifting plus break down any recyclable components.
Why not just dispose of the unusable couch yourself? Unfortunately, old couches have a few potential problems. For example:
Less expensive couches are made of chemically treated products, such as chipboard. These materials are not recyclable and need to be disposed of in a landfill.

Couch materials are often toxic - meaning that most disposal facilities will not accept them.  

Larger couches will not fit safely into the back of most cars or trucks. One solution, for those dedicated to DIY, is to rent a truck. Another is cut the couch in half with a reciprocating saw. This can be dangerous (and time-consuming) work. 
There's no need to risk property and bodily damage! Junk360 will do all the heavy lifting and disassembly so your couch can be properly recycled and disposed of.
Junk360 Is Your Partner for Old Mattress and Couch Disposal 

Junk360 is the easiest way to deal with old couch and mattress removal! Our reliable, friendly team of professionals will haul these heavy, bulky items out of your home or office, load them into our trunk, and take them to the appropriate facility. And remember: Junk360 sends nothing to a landfill unless it absolutely belongs there.
Call 651-395-8659 today to receive your free estimate or
request a quote online
! We can't wait to make your our next 5-star review!