Broken, tired pianos are tedious and take up more space than they need, especially if they continue to go unused. Whether it's an instrument that's been in the family for years or one bought as a hobby, sometimes pianos need to go. 
But piano removal isn't always easy. Piano movers are available, but they don't often dispose of such large and heavy instruments. That's where Junk360 comes in!
Different Types of Pianos Mean Different Removal Techniques
Different types of pianos which require different removal techniques. However, Junk360 can remove most types of pianos including:
Upright Pianos

Grand Pianos

Digital Keyboards

Baby Grand Pianos

Church Pipe Organs

Organs
Depending on the condition of your piano, we may be able to remove it all in one piece. If it is too large and bulky, do not stress over having to break it down yourself! Junk360 team of trained professionals are willing, able, and trained for every situation. 
Below are just a few of the steps we'll take to ensure a safe and effective removal:
Measure the piano, stairwells, and stairways to identify the best possible haul out route

Provide protective tools (such as dollies)

Provide protective cloths

Send experienced and professional team members

Lock piano lids to ensure safe movement
Want Your Piano To Go To A Good Home?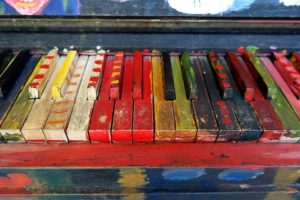 Piano works, but you've lost your muse? At Junk360, we are committed to the three Rs: repurpose, recycle, and reuse. As an eco-friendly organization, Junk360 will help your piano find a new home instead of sending it to a landfill. 
Our service includes: 
Free consultation and estimate

The right amount of labor to remove your piano

Properly dispose of the old piano

Recycle and donate any items that can be salvaged
Not sure what can be salvaged or donated? Our friendly teams can examine your piano onsite and let you know what your disposal options are.
Piano Pickup Made Easy

Disposing of your old piano is not an easy task to tackle on your own. You can't simply throw it in a dumpster or leave it on the curb with your garbage. They can be extremely heavy to move and dangerous to dismantle if you have never done it before. 
Our team at Junk360 will take care of your piano removal and will recycle the item when possible. Simply
request a free estimate online
or call  651-395-8659 today! 
Unlike other junk removal service, Junk360 charges by the truck space, not the weight - ensuring that you receive an up-front, all-inclusive price!