Spring is here! Alas, coronavirus is still lurking. This strange period in our lives is the perfect time to tackle some serious cleaning projects… like all those neglected living spaces inside your home!
Kick start your spring cleaning and keep your self-isolation productive by decluttering these three living spaces.
1. Guest Rooms

No one's having guests over these days. So what better time to go through these rooms and declutter? 
Declutter your guest space by going through each item in the room. Set up a space, bag, or box for the items you're getting rid of. At the end of each day, go through those items and organize them into three sections:
Sell:

If there are items you want to sell, contact your local consignment store. Craigslist and eBay are also great ways to sell your stuff online.

Donate:

Less valuable objects make great donations. Call your local charities to find out if they're open and accepting donations. 

Junk:

At the end of the day, throw out everything in your junk pile. Don't give yourself a chance to rethink it. It's worthwhile to hire a professional junk removal service for larger items, such as old mattresses and large furniture.
Don't forget to check underneath the bed for any forgotten items! 
2. Kitchen Area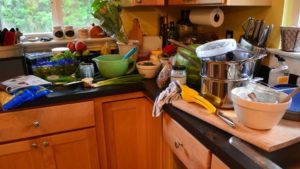 With so many
local restaurants offering to-go and delivery options
, give yourself a few days off from cooking and declutter that kitchen. You'll have a clean, organized cooking area AND be supporting Twin Cities' businesses! It's a win-win. 
So clear off that kitchen countertop and go through your kitchen wares. Ask yourself the following questions:
Do you still use it? If you haven't used it in the past 6 months, it's time to get rid of it!

Do you have duplicates? How many slow cookers do you actually need? Be honest with yourself.

Is it in good condition? Toss anything broken or unusable. 
After going through each drawer one by one, contact the friendly team at Junk360. We'll help find new homes for all your reusable kitchenware and recycle every item possible!
3. Living Room

Since we're all spending so much time indoors, it's important to have a space where the entire family can relax and enjoy being together. That can't happen with junk cluttering up the living room. Take a moment to really evaluate what's taking up space. 
Can you mount the TV on the wall? If so, then that old entertainment center can go, leaving space for your tree. 

Encourage conversation by rearranging your couches and armchairs so that they face each other. 

Make room for more seating spot by getting rid of rickety bookshelves or coffee tables stained beyond repair. 
Call our team at Junk360, and we'll haul away all your unwanted furniture. Then sit down and have a glass of wine. You've earned it.
Call Junk360 Today For Your Contact-Free Junk Removal
After you've tackled your clutter, give Junk360 a call!
Just place your items in your garage, driveway, or curbside. Our crew will pick it up and haul it away contact free! Afterward, simply pay over the phone. Call us today for a free estimate at
(651)395-8659
or
request a quote online
.