You've tackled the garage, you've decluttered your attic, you've organized your attic. Alas, coronavirus is still keeping the majority of us at home. So what's the next quarantine cleaning project on the list?
The yard of course! With summer just around the corner, it's time to get your outdoor spaces ready for use.
Junk360 is here to help!
Step 1: Clean Out the Shed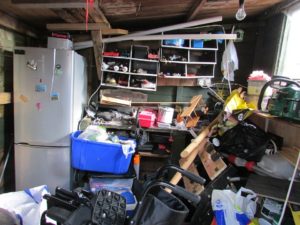 It's easy to let your shed become the "junk drawer" of your yard. The following items can often be found lurking uselessly inside:
Old paint cans

Empty garden pots 

Piles of wood

Broken garden hoses

Old yard toys
Ask yourself what the purpose of these items is. Are they useful for maintaining your yard or do they just help clutter it up? 
Clean out everything, restock your shed with items you want to keep, and junk all the trash and broken objects. However, when it comes to irreparable yard equipment, you have a couple of options for how to dispose of them. This includes:
Selling it for scrap

Giving it away

Taking it to the recycling center
Getting rid of these tools allows you to take back this space in your shed. Now you're one step closer to getting your yard ready for summer!
Step 2: Declutter and Clean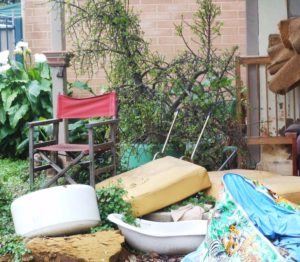 This is a great time to tackle outdoor cleaning projects that you probably can't do during any other season. These areas include:
Trash cans:

Scrubbing out your trash can help to prevent flies, and you won't have to hold your breath every time that you open it. In this case, a liquid toilet bowl cleaner and toilet bowl brush are great tools for the job.

Windows:

How often do you clean the outside of your windows? The process is quite easy. A simple mixture of dish detergent and white vinegar will have the glass sparkling.

Outdoor Furniture:

Maybe you forgot to cover it over the winter. Maybe you have no idea what happened. Either way, it's easier to enjoy your time outside if you get rid of whatever mold, mildew, or general grime is on your furniture. Bleach is your best option, but remember to move your furniture off of the grass before you get started.
Cleaning your outdoor furniture is the perfect time to ask yourself the following questions:
Did I use this last year?

Does it work?

Am I likely to use it this year?
If the answer to these questions is "no," then it's time to get rid of it. Doing so will help you maximize your outdoor space, create a more serene environment, and declutter your yard all in at the same time!
Step 3: Call Junk360!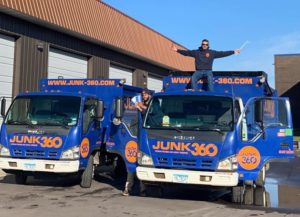 Don't want to deal with the hassle? Outdoor space has you overwhelmed? Junk360 offers a
contact-free junk removal service
for all your needs! Our professional and efficient team do the work so you don't have to. This includes taking everything that can be donated and recycled to the proper facilities. 
For a free estimate call Junk360 today at 651-395-8659 or
request a free quote online!