Although it may look different, school is back in session. Whatever your situation, some level of distance or virtual learning is probably a part of your new reality.
So how can you best set your child up for academic success? Here are some tips for creating a functional, comfortable, and productive at-home learning space for your children.
Tip 1: Pick the Right Space
Picking the right space for your child's virtual learning is essential. This space should be based on your child's learning preferences. Do they need white noise? Absolute quit? Figure out what best for them, and then find a space in the house that fits.
Some other things to consider when picking a space include:
Distractions

: Is there a TV in the room? A window that faces a playground or busy street? Huge amounts of distracting clutter? Too many distractions can interrupt your child's learning and make it hard to focus.

Comfort

: You want your child to be able to sit in the space comfortably for several hours a day. It should have a flat surface (like a desk or table) for laptops, books, and other classroom supplies. However, it shouldn't be so comfortable that your child can easily fall asleep. 

Lighting

: Studies show that natural or soft lighting is best for learning. 

Use

: If possible, this space should ONLY be used for your child's learning. If the room is multi-purpose (a kitchen or den), make sure the surface your child uses is only used during class or study times.  
Once you find the right learning space for your child, it's time to make sure it's clean and clutter-free!
Tip 2: Declutter
Study after study after study illustrates that a decrease in clutter results in an increase in learning. If your child's learning space looks like an episode of hoarders, it's time for a proper decluttering. 
When decluttering the virtual classroom space, you have several options:
Store

Donate

Junk
If your child is learning in a space that will be converted back to its original intention ( such as a guest or playroom), and you just need to get things out of the way, boxing items up for temporary storage is a great solution.  
However, you can also use this opportunity to properly declutter this space, figuring out what items are broken or no longer used. When you're decluttering, set up a space, bag, or box for the items you're getting rid of.
Tip 3: Call Junk360!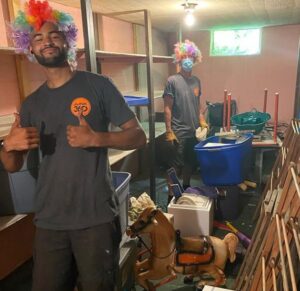 If you need help decluttering your child's learning space, give Junk360 a call! We've cleaned up hoarder homes, helped people downsize, and are committed to showing you how to optimize your space for your child's learning.
Plus, instead of making several trips to local charities, resale shops, or the recycling center, Junk360 will do it for you! As an eco-friendly company, we promise that nothing ends up in a landfill that doesn't absolutely belong there. 
Call us today for your free estimate by calling (651) 395-8659 or by
completing our online form
. We'll take care of the junk, and your child can start learning!