Whether you're closing a sale or renting a property, leaving behind the former tenant's trash reflects poorly on property professionals and the company they represent. 
A professional junk removal service can help!
Reasons for Contracting a Professional Junk Hauling Company

Real estate agents want to sell homes quickly, and property managers want to fill empty spaces. To do so, realtors and property managers alike need the help of a professional (and reliable) junk removal service. Here's why:
Less Time on the Market

: Recommending a junk removal service to help the seller will help real estate agents start marketing earlier and sell faster.

Reputation

: Previous tenants sometimes leave items and debris behind after they have moved out. Since a good chunk of a property manager's business comes from word of mouth, it's in their best interest to hire a junk removal service to clean up and haul away the junk before the buyer moves in.

Faster Turnaround

: Since rental properties have a faster market turnaround, it's critical to keep these properties uncluttered and clean to reduce the vacancy period. When abandoned goods and waste are left on sight, it's important to have a professional junk removal service you can rely on.

A Return on Your Investment

: Having a junk hauling company you can outsource to is vital when it comes to foreclosed properties, REO, short sale, and even your own reputations.
Benefits of Using a Junk Removal Service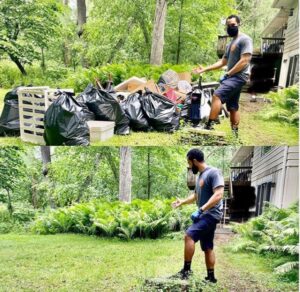 With a professional junk removal service, you'll find such benefits as:
Quick Response Time:

A professional junk removal company often offers same or next day service. The faster a property is clean, the faster it will sell.

Exterior and Interior Clean Out:

The exterior of a home is a potential buyer's first impression. Junk removal companies like Junk360 will remove broken sheds, broken playsets, and even rusting motor vehicles from the yard before tackling the interior.

Careful and Experienced Service:

When decluttering a home that's on the market or sold, the last thing you want to do is scratch the floors or knock a chunk out of the wall. Professional junk removal companies will leave the property in better shape than they found it. 
Get the help of a professional junk removal service so you can sell homes and move property!
In Need of a Professional Junk Removal Service? Look No Further Than Junk360!
If you're a real estate professional looking to outsource junk removal, we'll make sure property is clean, the client is happy, and you look good!
With Junk360, you can count on the best service in the Twin Cities! We live and breathe dependability, professionalism, and transparency (and we have the 5-star reviews to prove it).